Artist talks: Cooking Sections and Jumana Manna in Bozen-Bolzano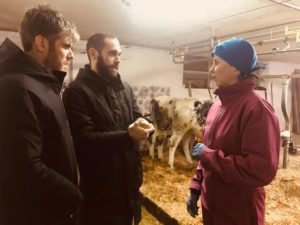 The duo Cooking Sections (Daniel Fernández Pascual and Alon Schwabe, London) arrives in Bozen- Bolzano: Tuesday, May 14 at 18:00 Cooking Sections will tell the public about their work CLIMAVORE: What is Above Is What Is Below, at the Free University of Bolzano, classroom C004.
The project explores production systems and food chains in relation to local ecosystems and the climate changes that affect them.
Cooking Sections' talk is part of the one-year art residency in South Tyrol, curated by BAU. The new project, called 5am-5pm, developed during the residency will be presented on September 15, 2019, in collaboration with Transart Festival 2019.
On Tuesday, May 14, the conversation with Cooking Sections will be followed by the talk WILD Relatives, with the artist Jumana Manna, curated by ar/ge Kunst. WILD Relatives is a video work, made in 2018, that looks at seed banks and their implementations both from a global perspective and from a local perspective.
The artist talks are part of a format of meetings organized by and with the Faculty of Design and Art of the Free University of Bozen/Bolzano.