Explorations #06 Raw Wool
LET'S GET INSPIRED BY THE MATERIAL!
16+ 17. OF NOVEMBER 2019
With Theresa Bader.
Freshly sheared raw wool from local sheep gets washed, coloured with sourced material, carded, felted and processed to a product.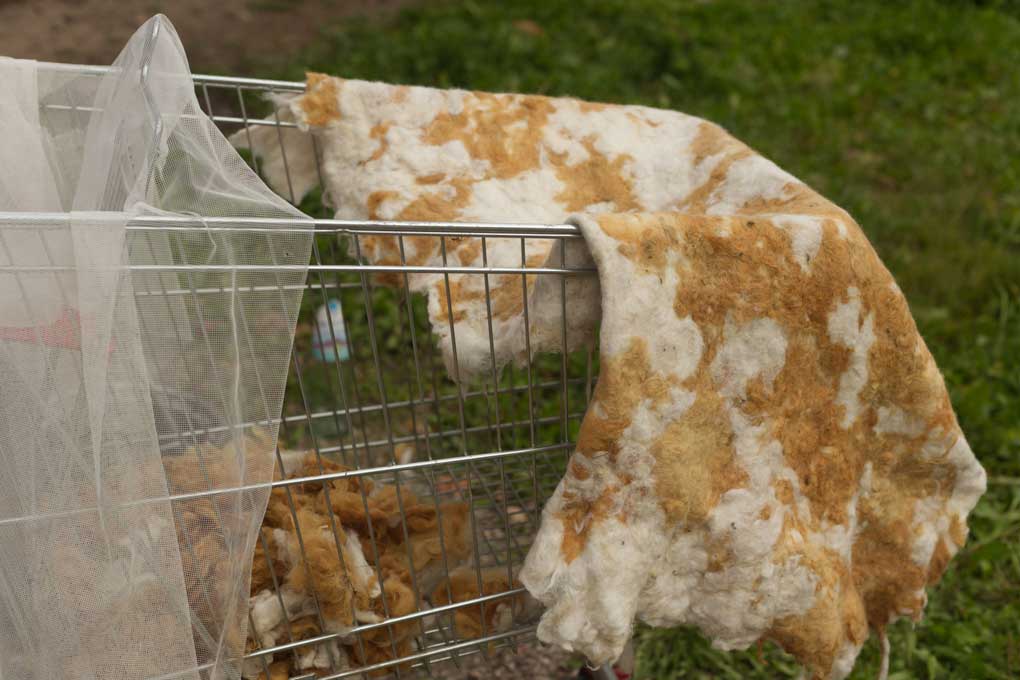 This workshop is exploring the relationship between sourcing and making with wool, as well as the surrounding elements and the product. It intends to establish new relationships to the local wool by experimenting with different techniques of processing wool, colouring and felting.
Participants can choose the fleece of one sheep and will be introduced to all the steps it needs to process raw wool. Washing, colouring, carding, felting, … until a final product emerges.
All the steps will be performed in close relationship and respect to the environment. Dye colours will get harvested in the woods and the water for washing the wool taken from the rain and river close by.
We foster creativity throughout the workshop and can provide professional advice in generating and accomplishing your final products.
---
16+17 November 2019 – h. 10:00 – 18:00
In Basis Vinschgau Venosta, Silandro (BZ)
DAY 1: introduction / washing / colouring / carding
raw wool + a product idea emerges
DAY 2: carding / felting + finishing the products
COST: 60 – 90 Euros depending on your income level
lunch-snacks are provided
extra material depending on the quantity used

Limited places
Application or questions to
hello.theresabader[at]gmail.com
theresabader.com & muu-baa.org
Related Posts